FITT gGmbH at the htw saar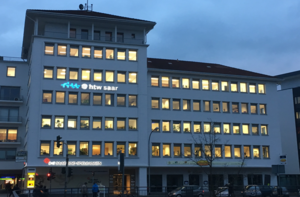 The FITT non-profit organization is the Institute for Knowledge and Technology Transfer at the htw saar. It was founded in 1985 initially as an association, and then transformed to a non-profit organization in 2002. Our constituent partners are the htw saar as well as each joint project between enterprises and professors. Today FITT employs more than 100 staff members working in approximately 80 research and transfer projects.
For us, developing professional qualifications means active knowledge transfer. In this context we provide a large number of support and professional qualification programs, including, for example, a comprehensive selection of continuing and further training programs for docents teaching German as a Foreign/Second Language. Likewise, we offer our expertise in the development of curricula and teaching materials for German for specific occupations, for example in the field of healthcare.
Prep-For-Study is a university studies preparation program recognized by the State of Saarland, organized and conducted by FITT gGmbH nonprofit on behalf of the htw saar.
Read more about FITT
Your Contact Partners at FITT